The products of Apple Inc. have proven unbeatable in the world of technology design. Competitors are constantly attempting to produce so-called "iPhone killers" - devices that try, but generally fail to even come close to competing with the runaway hit device. And while Steve Jobs and company do a great job with new technology, it's safe to say that the aesthetic design of the company's products has as much - if not more - to do with Apple's tremendous success.

The draw of Apple culture is so pervasive that now designers are adopting the tech company's style into furniture and accessories for the home. As part of Milan Design Week Italian artist Mirko Ginepro presented the iTable. The piece is a coffee or accent table made from Corian® with a glass window and steel legs. It is available in black, white, and bright yellow, on a custom order basis, from Ginepro.org. The company seems to enjoy creating home accessories that recall iconic images from pop culture. They also produce lamps shaped like ghosts from the Pac Man game.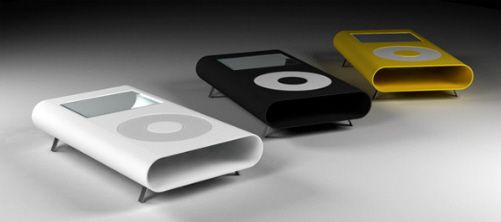 If an iPod-shaped table is a bit too much of a statement, you can take the scale down and into a more private space - the bathroom. From OpulentItems.com, there's the iCarta iPod dock / toilet paper holder. The quirky item comes complete with woofer-supported speakers and cordless power options. And at only $40, it's a fun and affordable gift for your Apple-obsessed friends.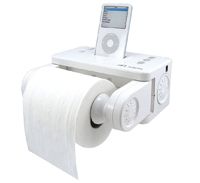 Photos: ginepro.org, furniturestoreblog.com, opulentitems.com
---
Share +




- url:
---